Overview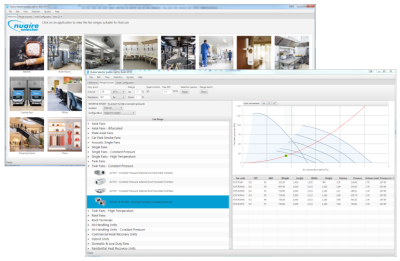 Latest version of Nuaire Selector available:
5.7.4433 - Released 2022-10-05
See the downloads page.
The Nuaire Selector application contains every variation of every product in the extensive Nuaire range.
It is a Windows application that is easy and quick to use. All the fans that meet the duty and pressure you have selected are displayed.
The order of the fans selected can be varied by one click of the mouse according to the criteria that you choose; this might be price, noise level, motor power, etc.
If you select silencers with the fan the program will revise your selection to adjust for the increased pressure.
You will find that Nuaire Selector is particularly helpful if you are selecting axial flow fans. With this range there are so many selections it is impossible to display them clearly in catalogue format. It is therefore essential to use Nuaire Selector to find the best and most economic axial flow fan for your application.
Once you have made your selection it is then a simple matter to print out technical data sheets of the selected fan. This includes performance, electrical and sound data as well as dimensional drawings.